X-mas Coloring Book Oekaki Contest 2012
Official art contest (Contests)
What is going to happen:
***
~ Part 1: Line art contest ~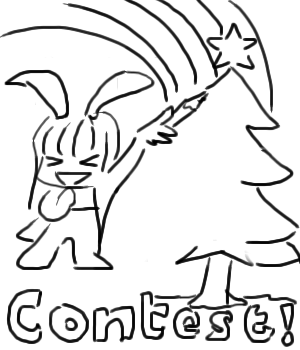 December 6th - December 21st
Assignment
On the oekaki board, draw some pretty line art that will be interesting for people to color. When you're done, put your final line art on the top layer and leave some empty ones below it for people to start coloring on. Submit your picture "to the coloring book" and write that it's a contest entry, you can enter as many times as you want. Please don't color any of your entries yourself.
Theme
X-mas at CPDD (i.e. make it X-massy and about the site somehow, you could use friends' avi's, npc's, site items, costume designs, chibi style, emotes, be creative!)
Judging
will be done according to the number of "favorites" a piece collects until the start of Part 2. The moderators will have the final say in case of a tie or doubts about the line art quality.
Winner
winning piece will be used for Part 2 of the contest, there will be prize badges for the best ones. To prevent confusion, runner-up entries will be added to the coloring book once the coloring contest is over.
Entries















***
~ Part 2: Coloring contest ~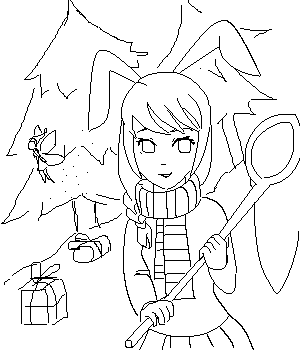 December 24th - January 1st
Assignment
Find the winning line art in the oekaki coloring book, "Continue" and color it as nicely as you can (within the lines or at least on a different layer so it doesn't smear), don't forget your shading and special effects! If the line art represents existing characters, feel free to ignore their usual color schemes. Just be creative! (but show some respect to the original artist and don't significantly alter the line art)
Judging
will be done according to the number of "favorites" a piece collects until the deadline of January 4th. The winner of Part 1 is disqualified for this round.
Winner
there will be prize badges for the winners, and the final winning picture will be featured in an announcement
Entries







***
Wiki title:
X-mas Coloring Book Oekaki Contest 2012
Last changed:
February 23, 2013 by Karin
Can be edited by:
authors only
|<
Viewing 12 - 26 of 26