2109
| Artist:
james1984
| Time: 4 minutes | Date: November 24, 2014 | Title: spandex bodysuit |

A moderator might consider hiding this picture for lack of effort.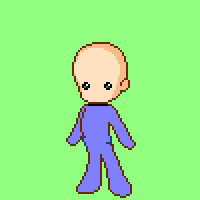 here is an item I designed myself

I guess that's kind of good; I see the idea.
Though, no clothing item should be skin tight on the person (and you should put more effort into pixeling than just filling in the body.) You also need shading; the light is in the upper left. And the background is green...?
Honestly, not to be rude, but hopefully you know that the artists here actually put effort into their work. They never just lazily fills in the body...! If you think you'd be an artist with this, sorry, but it lacks a lot to be a good outfit.